Bonded Fillings Toronto - North York Dentist - Dentist in Toronto
Bonding is a relatively recent development in the world of dentistry. When your tooth is damaged by decay, chipped, fractured or discoloured, bonded fillings are a versatile solution that is among the easiest and least expensive procedures available.
A bonded filling consists of a tooth coloured composite resin. A bonded filling can often be made in one visit. The composite resin is chosen based on the shade of your natural teeth, and then applied to and fused with your existing tooth, thus the term "bonded". 
A bonded filling is used in place of a more conventional amalgam filling. The advantage of bonded filling is that it can be applied more quickly, and it matches the natural colour of your teeth.
Tooth-coloured composite restorations are used when a tooth is damaged or discoloured. Unlike veneers, which have to be made from a custom mold, composite bonding can be a quick, relatively inexpensive fix. Prior to applying the bonding, the surface of the tooth in question is abraded in all the spots it will make contact with the bonding. This is done to ensure that the bonding holds firmly. Your tooth is then treated to a conditioning liquid, after which the bonding is applied, then shaped into the desired form. This technique can also be used to reduce the width of the gap between your teeth.
The procedure itself usually won't take longer than 30 minutes to an hour. It's important to avoid eating or drinking anything that tends to stain for 48 hours following the resin treatment. This included coffee and tea. Smoking should also be avoided in that time period. 
If you'd like to discuss bonded fillings or tooth-coloured composite restorations with your North York dentist, contact us today at Dentistry on Bayview, or schedule an appointment online.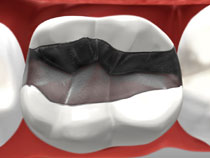 Last Updated On
2021-10-19