Dental Bridges - Dentist in North York - Dentist in Toronto
The loss of a tooth can be a huge inconvenience. It can have a negative impact on your ability to bite comfortably or chew food. Missing teeth don't just look potentially unsightly, they can cause your other teeth the shift from their natural positions to fill in the gap. This can change your bite profile, or even have an effect on the shape of your face.
One possible solution is dental implants. 
That being said, if you'd prefer a non surgical solution, dental bridges are an excellent alternative. Dental bridges are a more permanent solution than dentures, but less expensive and time consuming than dental implants. They're used to "bridge" the gap between your teeth.
There are three types of dental bridges, and the placement and number of missing teeth will determine which variety of dental bridge is right for you.
The most common type of bridge is referred to as a 'traditional' bridge. A traditional bridge is used when you're missing one tooth, and have healthy adjacent teeth on either side. A dental crown is made for each adjacent tooth, and the pontic (artificial tooth) is fixed between them. The pontic is generally made from ceramics, or sometimes porcelain fused with metal. 
If you're missing more than two adjacent teeth, a Cantilever bridge might be the appropriate procedure. A Cantilever bridge works similarly to a traditional bridge, except it spans a wider gap, enabling your Toronto dentist to restore your smile, as well as the normal function of your teeth.
Another alternative is what is referred to as a Maryland bridge. In a Maryland bridge, the pontic is attached to the adjacent teeth with metal or ceramic wings on either side, and affixed with cement. 
If you're interested in discussing your options, be it a bridge or dental crowns, or any other dental treatment, please feel free to contact us or make an appointment online with Dr. Chung, your North York dentist.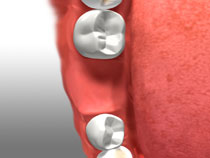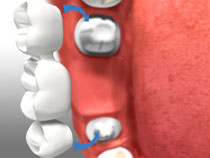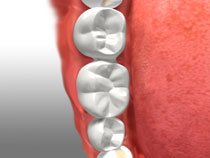 Last Updated On
2021-10-19