Full Mouth Restoration North York - Family Dentistry in Toronto
Here at Dentistry on Bayview, we offer a service called full mouth restoration. Sometimes a patient will require a variety of treatments to achieve the results they're looking for. This can be necessary when more than one, or even all of the patient's teeth are in need of some form of corrective action. If, for example, that patient has been neglectful with their dental hygiene, or they've been taking improper care of their teeth, the problems can start to stack up.
That's why Dr. Chung, your local North York dentist, offers full mouth restoration. If you're concerned that your teeth are too far gone, or that the damage done over the years is too extensive to be addressed, fear no more. Full mouth restoration is the comprehensive service, offered by your local North York dentist at Dentistry on Bayview, that will address each problem with the appropriate solution, without having to deal with it on a tooth by tooth basis. 
These solutions will generally range from medical to cosmetic, depending on the extent of and nature of the issues you may be experiencing. They include, but are not limited to:
Bonding, or fillings

Periodontic and endodontic procedures
All of these services are, of course, available individually, but sometimes it can feel overwhelming to try to treat one problem at a time when you know that there is still so much to be done. It can feel like it might be a drop in the bucket, when what you want is to improve the overall appearance of your teeth, without having to address every problem piecemeal. That's why at Dentistry on Bayview we ensure you have the option to restore your entire smile with one comprehensive treatment plan.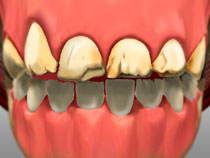 Last Updated On
2021-10-19